BIORIZON: A SHARED RESEARCH CENTRE ON BIO-AROMATICS
VITO, TNO and GCC take the knowledge in the field of bio-aromatics to a next level
The global need for aromatics, a specific group of essential building blocks for the chemical industry increases each year with about 3-5%. Currently, this group of chemical building blocks represents a world market of about 75-90 million tonnes on annual basis with a market value of about 95-115 billion euro. Aromatic compounds are used as a resource for the production of plastics, coatings, additives, fibres, cosmetics, pharmacy and feed/food ingredients (vitamins, colourants, flavour).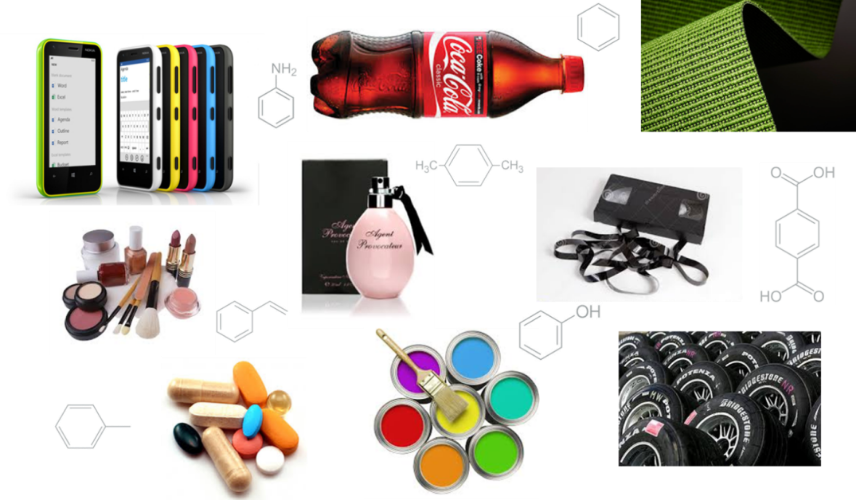 Currently, aromatic building blocks are isolated as a side-product during the refining and cracking of fossil oil. Due to the high price volatility of fossil resources on the one hand, and a change in the composition of product mixes from oil refineries on the other hand, the search for alternatives as a resource for aromatics has increased. The use of biomass as an alternative for fossil oil not only results in less geopolitical dependence, and thus more security of supply, but also in the greening of the chemical industry. Moreover, brand owners like IKEA, Coca-Cola and LEGO force their upstream suppliers to contribute to deliver societal responsible consumer products to the market and have placed sustainability high on the agenda. In the end, the chemical sector and end users request biobased aromatics but of course for a competitive price.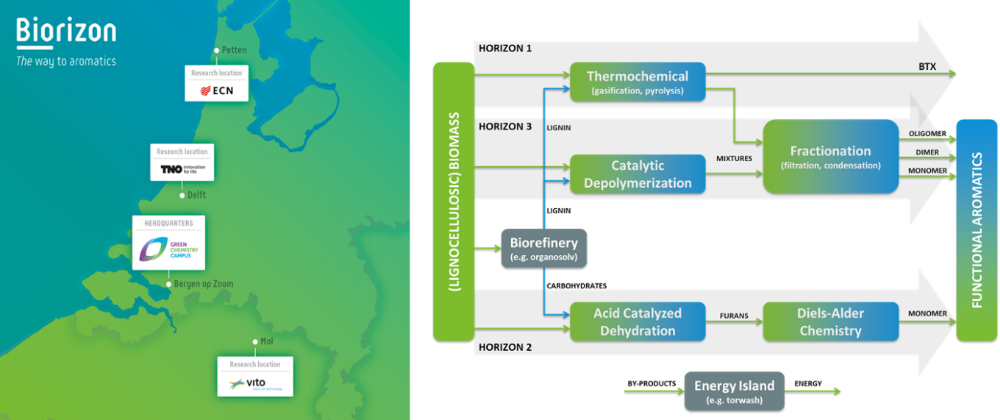 Market demand was the initial driver to start and intensify the collaboration in the field of bio-aromatics and to take the knowledge in the field of bio-aromatics to a next level. Therefore, Biorizon (www.biorizon.eu) was founded in 2013 as a shared research centre clustering the expertise of VITO (Vlaamse instelling voor Technologisch onderzoek), TNO (Nederlandse Organisatie voor Toegepast Natuurwetenschappelijk Onderzoek) and co-founder GCC (Green Chemistry Campus). By combining research and budgets the risk of each participant reduces and market introduction shortens. More recently, ECN part of TNO joined in 2016. Each of these 3 research organisations coordinates a horizon in the Biorizon roadmap. This roadmap came about as a result of industrial involvement, visualized by the community members of Biorizon.
ECN's strength is the area of thermo-chemical conversions of biomass to bio-BTX aromatics and aromatic mixtures as well as the area of high added value energy applications. More recently, ECN part of TNO and VITO decided to join forces in lignin application development where ECN part of TNO brings in its technology development activities on lignin pyrolysis coupled with fractionated condensation.
TNO's developments deliver sugar derived furans (including those derived from waste streams) and subsequently the production of drop-in chemicals and new functionalized bio-aromatics from these furan based precursors.
VITO delivers mixtures of lignin derivatives and functionalized aromatics issued from various lignin oils produced via different depolymerization technologies. These lignin-based mixes are subsequently used to synthesize new biobased polymers. In extension, biorefining lignocellulosic biomass is included in the program in order to deliver the required sugar and lignin feedstock materials for Biorizon developments towards biobased aromatics. The increasing complexity of biobased innovations drives organizations and companies to collaborate and develop together.