UTILIZATION OF WASTE SUGARS FOR FUNCTIONALIZED BIO-AROMATICS
Implementation of a platform technology
The chemical industry can help resolve the societal challenges through the establishment of a circular biobased economy. Here, recycling is crucial, while biomass will become the virgin feed. TNO assists by developing a viable business case for the conversion of waste sugars into aromatics.
Biorizon's industry inspired roadmap is oriented towards 3 horizons:
a thermochemical horizon with a main focus on non-functionalized aromatics, coordinated by ECN part of TNO;
a lignin horizon with the aim to deliver functional aromatic building blocks by depolymerization and fractionation and
a third sugar horizon focusing on Diels Alder technology to deliver highly functionalized aromatics.
This article is the second of a series and describes the sugar horizon and its potential for bioaromatics.
FROM FOSSIL TO BIOBASED FEEDSTOCKS
Global warming. Pollution. Competition. Challenges the European chemical industry must overcome in the coming years and decades. The solution? A focus on sustainability through the establishment of a circular biobased economy. To accomplish this endeavor social innovations that focus on reduced material usage, re-use of products and recycling are of utmost importance. In addition, scientific breakthroughs are required in the area of energy-efficient recycling technologies. Together with the waste management sector, the chemical industry requires the coming decades to invest in new products and innovative recycling technologies (mechanical, thermal and chemical), whilst adjusting their installed base to accommodate the utilization of recycled and biobased feedstocks.
Many products (textile, bottles, packaging) can easily be recycled, other products (coatings, rubbers, adhesives, polyurethanes, polycarbonates, composites) cannot. Most of the latter products consist of aromatic building blocks, providing the properties (durability, thermal and UV-stability, scratch resistance, etc.) demanded in such high-performance applications. As such, a shift from fossil to biobased feedstocks is the only way for the chemical industry in such markets to achieve the CO2-reduction demanded by global, European and national climate agreements.
> 50 DIFFERENT BIO-AROMATICS
Biorizon Shared Research Centre, founded by TNO, VITO and the Green Chemistry Campus, is targeting the development of technology and value chains for the conversion of biomass into aromatics. Here, TNO is focused on functionalized aromatics (di- and tri-acids like phthalic and hemimellitic acid) since they can be used directly in the final application, have a sufficiently high economic value and can be readily obtained from biomass without losing too much of its intrinsic functionality (see Figure 1). This leads to lower costs and thus an improved business case, especially when compared to deriving commodities (like benzene) from biomass.
The technology that TNO employs to convert biomass into functionalized aromatics is shown in Figure 2. Waste biomass (such as sludge, manure, agro-residues), rich in carbohydrates (C5-sugars), is converted into furfural, as intermediate en route to bio-aromatics. This intermediate is reacted using Diels-Alder chemistry to obtain the bio-aromatic of choice. In this chemistry, furfural is the so-called diene, that reacts with a so-called dienophile, which is an alkene or alkyne (ethylene/acetylene derivatives). By modifying the furfural and selecting the appropriate dienophile, a portfolio of > 50 different bio-aromatics can be obtained. When waste streams are used for the production of aromatics, a local, circular, cost-effective, renewable feedstock is obtained that enables the transition of the chemical industry from fossil to biobased feedstocks.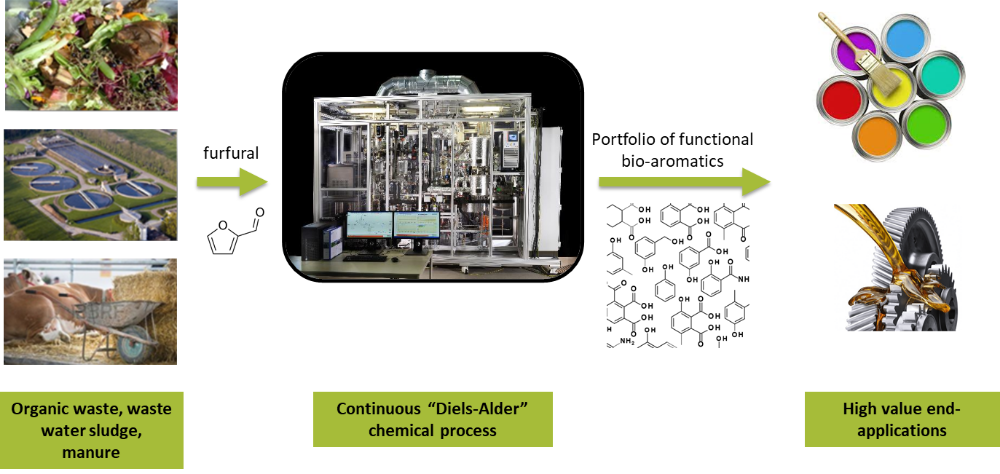 SMALL STEPS ON THE ROAD TOWARD COMMERCIALIZATION
This transition is littered with corpses of initiatives and start-ups that have focused on technology development for bulk products. Although resulting in impressive CO2-emission reductions, no premium exists for the use of renewable feedstocks for bulk products, such that these initiatives can only be cost-competitive at large scale. However, the chemical industry is conservative and risk-adverse, leading to a deadlock. Therefore, rather than large steps with high risk, small steps should be taken on the road toward commercialization of bio-aromatics. TNO implements this by focusing on specialty aromatics, with higher price and lower volume compared to bulk aromatics such as BTX. When the developed Diels-Alder technology for specialty aromatics has been successful demonstrated (commercially), the learnings will be utilized, and the platform tapped, to realize the production of bulk aromatics, giving rise to the large scale reduction in CO2-emissions that is desired.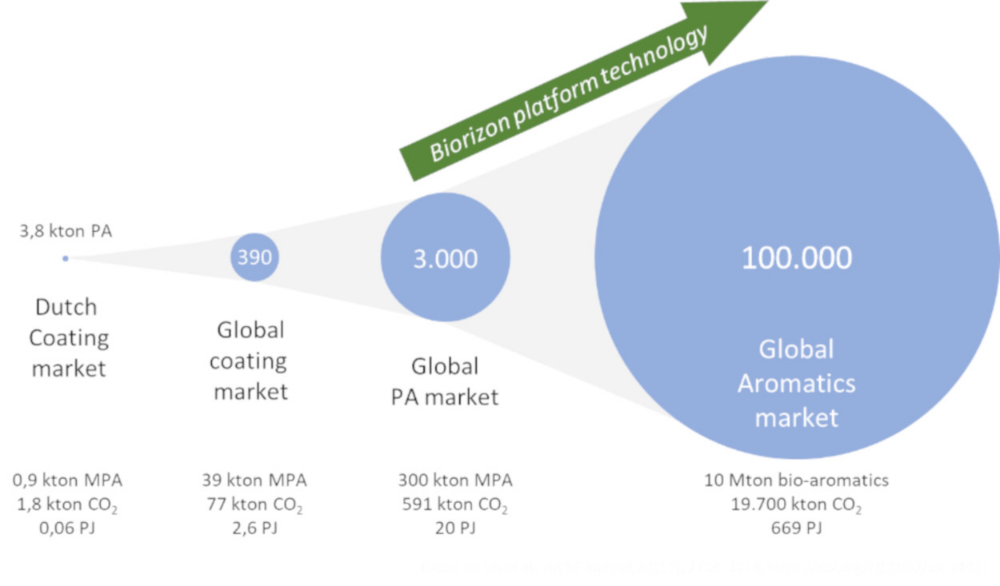 NOVEL BIO-AROMATICS IN COATINGS AND LUBRICANTS
The initial focus of the TNO/Biorizon program has been on the development of Diels-Alder chemistry for production of two novel specialty bio-aromatics: 3-methylphthalic anhydride (3-MPA) and hemi-mellitic acid (HMA). Promising applications for these novel bio-aromatics are in coatings and lubricants respectively. Figure 3 'paints the picture' for the estimated use of 3-MPA in coatings as a stepping stone for the development of the Diels-Alder technology for other bio-aromatics (as described above). Application of 3-MPA to 25% of the Dutch coatings market, would replace a modest 0.9 kton of phthalic anhydride (PA) with a biobased feedstock; a 1.8 kton reduction in CO2-emissions (based on an extensive LCA reported in literature; Lin et al., AIChE Journal, 61(11), 3708-3718, https://doi.org/10.1002/aic.14921).
Replacing 10% of the global coatings market in the same way means a 39 kton reduction in PA use; 77 kton less CO2-emissions. If 3-MPA can also be used to replace PA in other products (PUR, plasticizers, inks, glues, etc.) a larger contribution to CO2-emission reduction can be achieved (591 kton CO2 with 10% phthalic anhydride substitution). This is just the reduction for substitution of 1 aromatic chemical; if Diels-Alder technology can widely be applied for substitution of a broad range of fossil based aromatics, CO2-emission reductions can amount to the tens of millions of tons.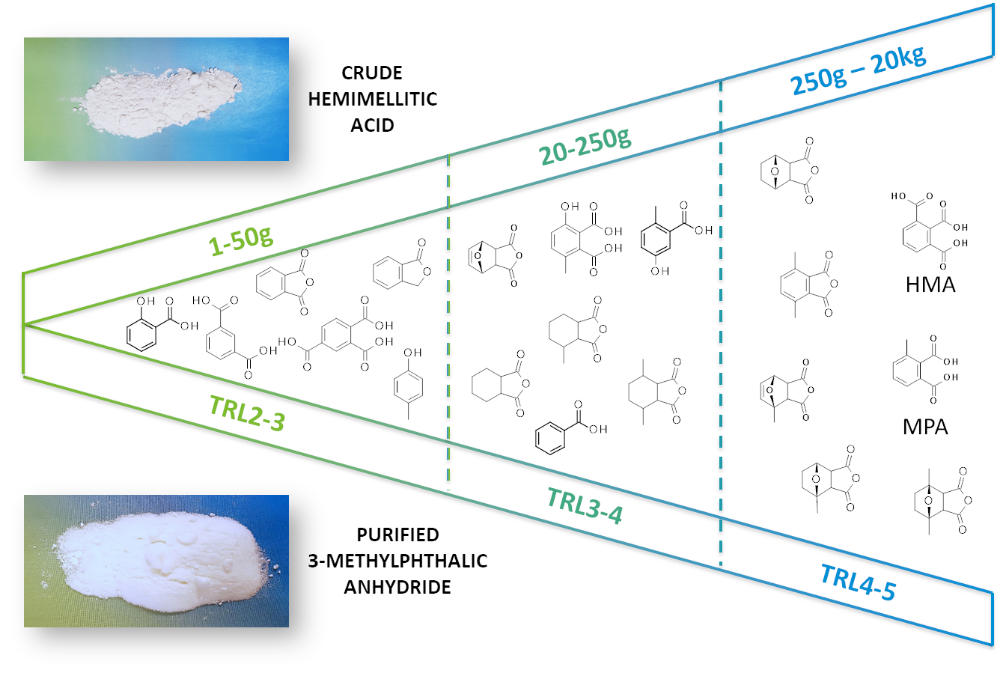 DEVELOPMENT OF SCALABLE AND COST-EFFECTIVE PRODUCTION PROCESSES
Figure 4 shows the current portfolio of bio-aromatics that can be produced with TNO's Diels-Alder technology. Besides the aromatic acids, alcohols (like phenol) and amines (like aniline) can be obtained from biomass through this approach as well. Hence, it truly represents a platform technology with the potential to contribute significantly to the realization of a biobased economy. Figure 4 also indicates that 3-MPA and HMA can currently be produced on the multikilogram scale. This means that companies can perform application testing to evaluate properties of these bio-aromatics. To date several companies in the Biorizon community have discovered improved performance or other benefits when applying the novel bio-aromatics in products/applications like coatings and lubricants. To capitalize on these results, the price of these bio-aromatics should be right. Therefore, the Biorizon program has a strong focus on the development of scalable and cost-effective production processes.
To achieve this, TNO is investigating specific Diels-Alder reactions in the laboratory, understanding the chemical space, and converting the selective batch processes into efficient continuous process. These lab-scale proof-of-principles are subsequently used to design, engineer and construct pilot plants (TRL5) to deliver validation of techno-economic viability.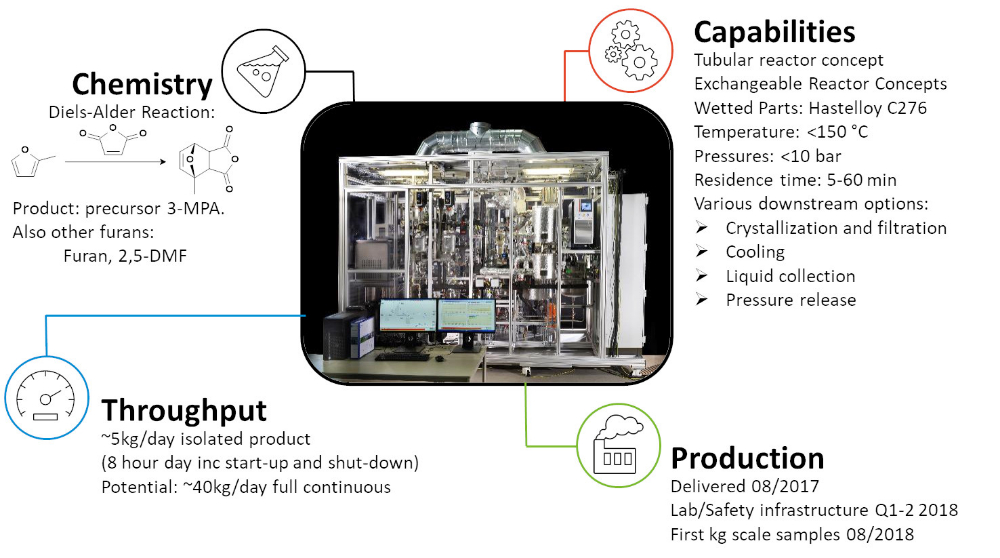 An example of such a pilot plant is depicted in Figure 5. This pilot plant facilitates a continuous Diels-Alder reaction, followed by cooling crystallization (seeded) and filtration of the (intermediate) product with a throughput of 5 kg (product) per day. TNO has installed this pilot and others (for other reaction steps in the process to convert biomass into aromatics) at the Green Chemistry Campus in Bergen op Zoom (NL). They have been used to deliver proof-of-scalability and to produce the larger scale samples as mentioned earlier. TNO will furthermore employ these pilot plants to generate enough process data to be able to draft a process design package of an integrated demonstration plant, to be operated from 2021 onwards.
INTEGRATED DEMONSTRATION PLANT
The Biorizon program will create a spin-off company that will be dedicated to the realization and operation of the integrated demonstration plant (TRL7, intended name-plate capacity of 100 kton/annum). This constitutes an important milestone on the road toward commercialization and contributes to the envisioned scale-up. Furthermore, the Biorizon program will be geared towards applying the Diels-Alder technology for production of other bio-aromatics (and derivatives).
In addition, the program will, through the development of furfural production technologies, seek interaction with other biobased initiatives in (and outside) The Netherlands to create leverage and maximize biomass valorization. In the end, the combined research and development efforts of multiple stakeholders could lead to the dream as depicted in Figure 6: a landscape with cross-overs between different sectors to use (waste) biomass for food, chemicals and energy. With an industry that is competitive, offers jobs, does not pollute, but contributes to a sustainable society.